About S&P InTegritySM
Failed implementations can usually be traced to an inability to bind a project's strategy to the agile execution required for day-to-day implementation under real-world conditions.
To address this industry shortfall, S&P Consultants developed InTegrity—an implementation framework that binds strategy to execution at all phases of an implementation.
InTegrity was specifically designed to complement the implementation framework of HIS vendors and—like DNA with pre-coded "intelligence"—to imbue every activity with strategic perspective in a manner that proactively adapts to a client's localized variables. InTegrity provides the know-how and actions at the critical moments of the implementation life-cycle to allow a project to flourish. We transcribe real-world insights, processes, and controls to provide for an agile solution to address your project's specific complexities and risks.
InTegrity serves as an objective, experienced force during the entire implementation process; providing a solid blueprint and criteria for success during vendor selection, contract negotiation, and readiness assessment. Then, during every subsequent step of the implementation, InTegrity coordinates, adapts, and securely binds the elements of the vendor's framework to your ultimate goals and objectives.
InTegrity delivers maximized return on investment while ensuring the success of an implementation. InTegrity serves to uncover, adapt, and remedy potential gaps in vision, alignment, readiness, staffing, infrastructure, training, and other areas that have been known to impede—or sometimes completely interrupt—a successful implementation.
What our clients are saying
"InTegrity allowed us to optimize everyone's time‐‐especially the clinicians. People knew that if we called them into a meeting it was because we really needed them, so they would attend. Questions got answered in real time. "
Ben Schaab
CFO/VP Fiscal ServicesCGH Medical Center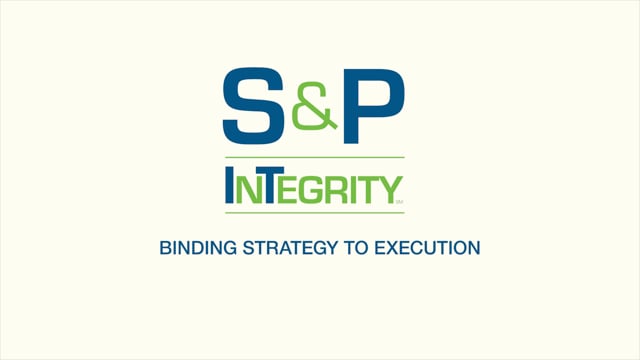 Our clients and team members talk about S&P InTegrity, an implementation framework that binds strategy to execution at all phases of an implementation.
Watch Video
Learn more about our proven process that's bringing new accountability and speed to Cerner implementations and upgrades.
Download Article
Memberships & Distinctions